Dressage at PDF was personally developed and nurtured by Owner and USDF (United States Dressage Federation) Bronze Medalist Maria Mendonca. Dressage lessons at PDF are unique. Along with dressage training and boarding, PDF offers Dressage lessons and leases to students of all ages, levels, and disciplines, even if they do not have their own horse! Well-schooled show horses and upper-level dressage horses are also available for lease.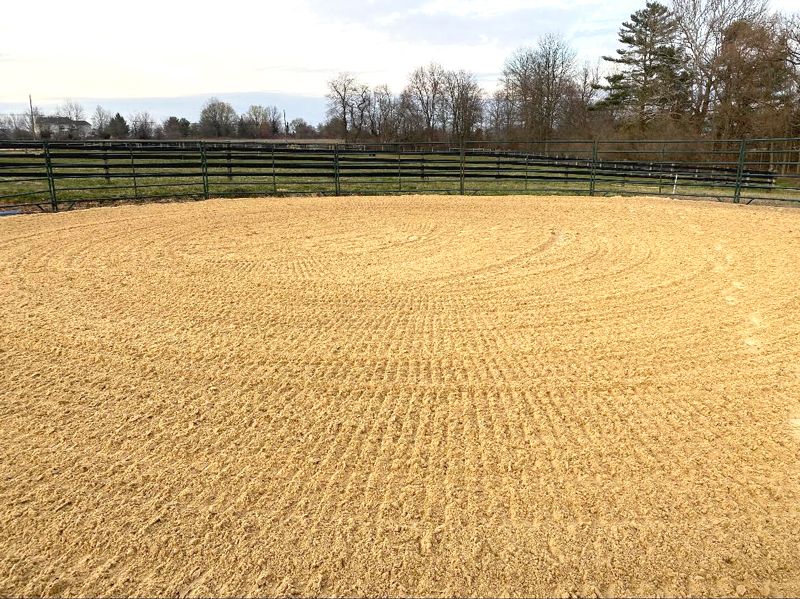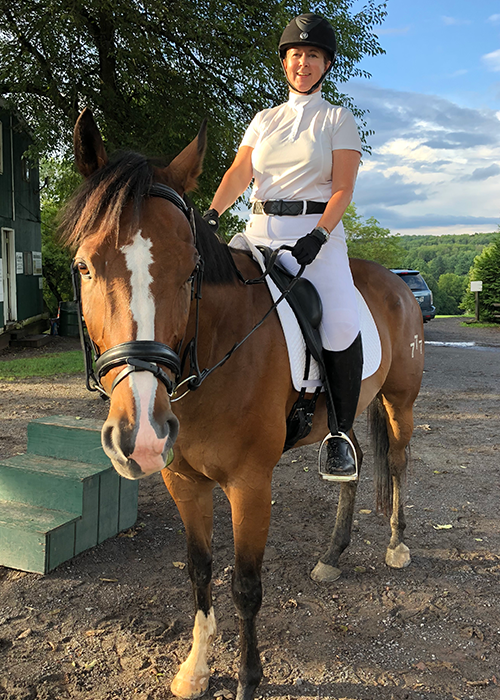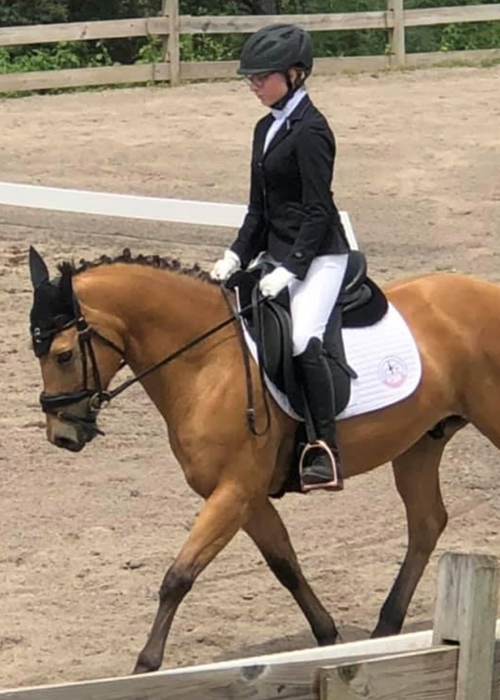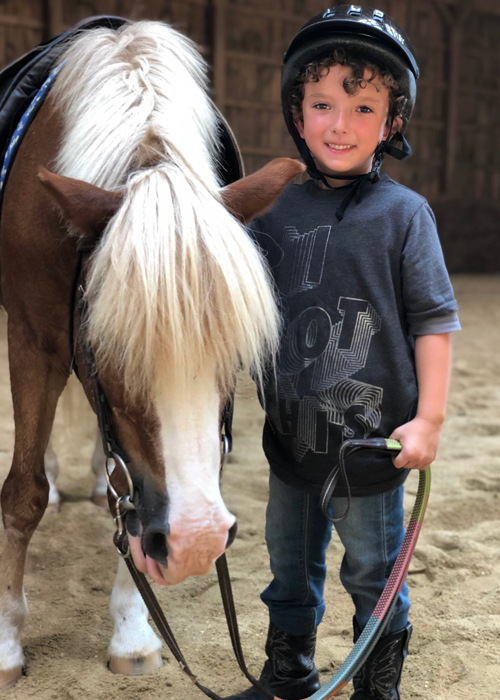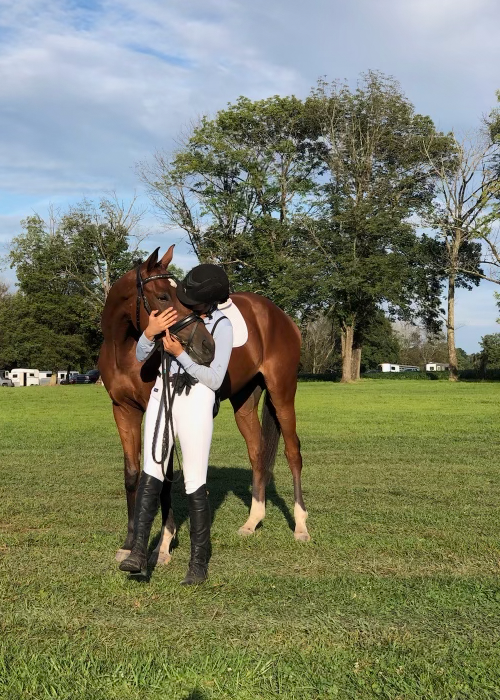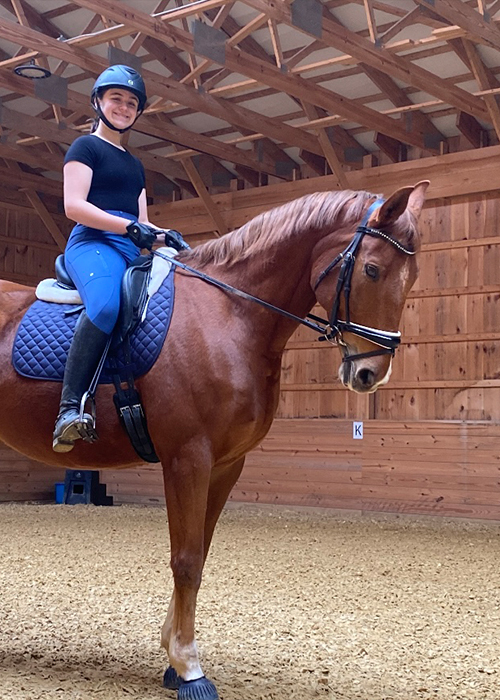 Maria Mendonca-Collito
Maria has been a part of the local equestrian community for over 30 years and has owned, managed, and directed Painted Dreams Farm since 2004. Through lessons, clinics, and camps, she has introduced literally hundreds of children and adults to the world of horses.
Receiving her BS at Boston University and one of her master's degrees in Medicine at Yale School of Medicine, Maria practiced medicine from 1991 until recently, when she decided to retire and focus her attention on her equine goals. Her successful journey has taken her from the APHA Reining arena early on, through the Hunter ring briefly, and over the last decade to her true passion, Dressage.
Maria is a United States Dressage Federation Bronze Medalist. Maria was on her way to her Silver Medal when she suffered an injury that required surgery and extensive rehabilitation. She is back in the saddle and working diligently for the opportunity to be able to show again.
Maria is a American Riding Instructor Association Certified Level III Dressage Instructor, the highest level offered by ARIA.
Recently, she was the recipient of the prestigious US Dressage Foundation Maryal and Charlie Barnet Instructor Grant. This award is given for excellence in training students of all levels and goals.
In the past, Maria was named the Head Coach for the Interscholastic Equestrian Association Middle School and High School Dressage Teams in Bucks County. Here she was able to introduce the concepts of Dressage to students in the Hunter, Jumper, and Western worlds. Her team competed successfully throughout New York, New Jersey, and Pennsylvania.
Maria is also the proud co-owner, along with her daughter Morgan Collito, of PDF Hanoverians, and has bred two top class foals from the Grand Prix stallion Devon Heir, out of her elite mare Whisteria Lane. Both of these offspring have become very successful show horses, and are planned to be bred in 2023.
Maria has many additional interests and attends classes and clinics in equine saddle fitting, nutrition, conformation and movement, and veterinary medicine.
Maria built and created PDF as a way to make riding accessible and enjoyable to all types of riders with a wide range of goals and dreams in a judgment free atmosphere. Maria has built her business based on honesty, respect, and communication. She is articulate, patient, and compassionate. She values teamwork, sportsmanship, and responsibility in her students, a combination she feels creates not only self esteem, but lifelong sense of accomplishment.
She hopes to be able to share the success that Dressage training provides, not only to those headed down centerline, but to students of any discipline.
Morgan Collito, Head Trainer
Morgan first started riding at the age of 3 years old. Since that very first ride, she was hooked. As a young child, she did anything that would earn her more time in the saddle. From mucking stalls, to scrubbing water buckets, Morgan was always up for the job. By the time she was 10, she focused on her goal of becoming a head trainer.
She went on to ride in a variety of disciplines; in fact, she brought her straight off the track thoroughbred up to the 1.10m jumpers when she was only in high school. Morgan started taking dressage lessons to strengthen her jumping, and that is when she realized that her true passion was in the sand box.
As an all-around athlete, Morgan played nationally ranked volleyball through high school and college. While at Rider University, she was co-captain of the equestrian team, where she learned valuable leadership and show management skills. She went on to graduate from Rider University Summa Cum Laude, with a degree in Public Relations.
Morgan earned her USDF Bronze, Silver, and Gold medals by the time she was 22 years old. In doing so, she has gained much experience in USEF and USDF recognized competitions through the highest level of the sport.
Morgan has also bred, backed, and successfully competed two of her own homebred horses who are still very much up-and-coming! She plans to continue breeding and growing her line of homebreds. She currently owns her first born, Devon Lane, who is a 5-year-old Hanoverian mare and has competed through second level. She has recently sold her second homebred, Debonaire L, within her own barn and remains in Morgan's training program. Morgan plans to continue breeding Hanoverians and cannot wait to see where her line of youngsters will take her!
Morgan currently has many clients in full or partial training. She has backed and trained everything from Fell ponies, GRP's, Arabians, OTTB's, Morgan's, Drafts X's, New Forrest Ponies, PRE's, Andalusians, Lusitanos, and many warmbloods of all breeds and ages.
Morgan trains daily and also attends clinics and seminars to further her education.
Morgan puts the horse above all and believes that training should be approached with patience, kindness and correctness focusing on strong basics, with close attention to the USDF training scale. Her teaching style concentrates strongly on connecting the horse from nose to tail in order to create a confident and balanced team in any environment.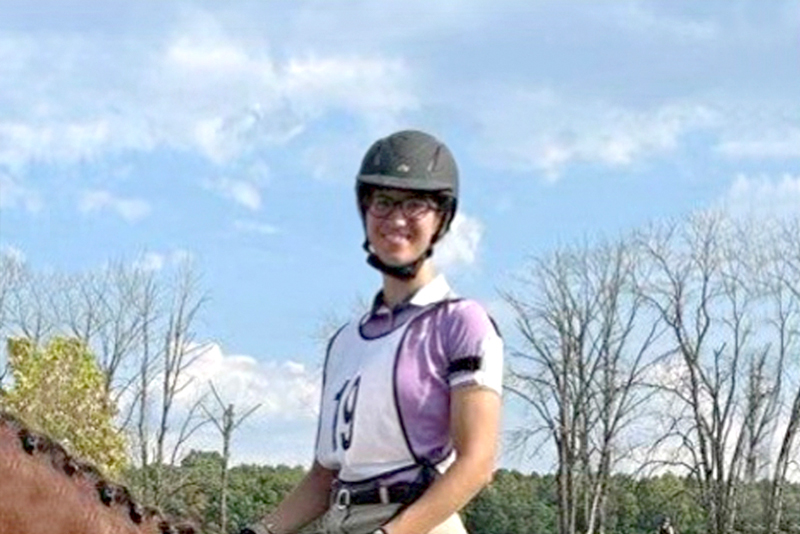 Deanna began riding right here at Painted Dreams in 2008 when she was only 9 years old. After a few years of lessons, Deanna became a Counselor in Training for PDF summer camp, and then Head Camp Counselor. Since then, Deanna has gone on to work in every aspect of PDF, from Horse Caretaker to Working Student, to Groom, to Summer Camp Instructor, to Junior Rider/Trainer. In 2018 she began as the Instructor for Beginner Students and Assistant Trainer for our USDF Gold Medalist Morgan Collito.
Deanna has had the privilege of training one of her client's Morgan horses from the ground up. He came to PDF as a lightly broke youngster, and last year Deanna won the End of season Championship at Training level, and is currently schooling First level movements with him. She is hopeful that they can achieve their USDF Bronze Medal together in the future.
Deanna is beloved by her students, boarders, and staff alike for her patience with both human and horse. With a strong emphasis on safety, horsemanship, and having fun, Deanna is passionate about sharing her knowledge of horses and riding with others. Focusing on correct basics, she has taught riders of all ages from their first ride ever, to competing at introductory level dressage.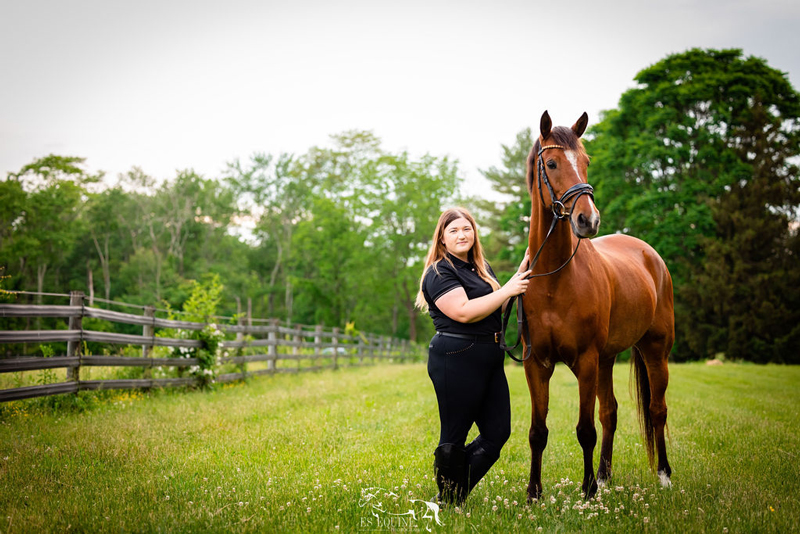 Macie Hager has loved horses since childhood and had been riding since she was just five years old. In high school she made the decision to pursue a career in the equine industry and received an Associate Degree in Equine Management from SUNY Morrisville.
During her time at SUNY Morrisville, Macie was exposed to numerous equestrian disciplines including hunter/jumpers, western pleasure, and reining but focused mainly on thoroughbred racing and equine rehabilitation. She completed an internship through SUNY Morrisville working in the thoroughbred racing barn and at Finger Lakes Racetrack. After receiving her associate degree, Macie decided to return home to Pennsylvania.
Macie started working at Painted Dreams as a summer camp intern in 2017 and has worked her way to becoming Assistant Barn Manager and Assistant Trainer. During her time at Painted Dreams, Macie fell in love with Dressage. She aspires to show and work through the levels with her Off the track Arabian, Calin. While working at Painted Dreams, Macie has not only gotten her ARIA riding instructor and stable management certification but also got her Bachelors of Equine Business Management from St. Andrews University.
It is Macie's goal to make riding fun while teaching riders a strong foundation for all disciplines. Lesson's with Macie reach beyond the saddle and emphasize good horsemanship. She is passionate in helping her riders achieve their goals, whether it is stepping into the show ring or just having a good time.
941 Park Avenue
Wrightstown, PA 18940
Bucks County, PA
19301 Capet Creek Ct
Wellington, FL
Seasonal Location
M-F:  9am – 7:30pm
Sat: 9am – 6pm
Sun: 9am – 6pm